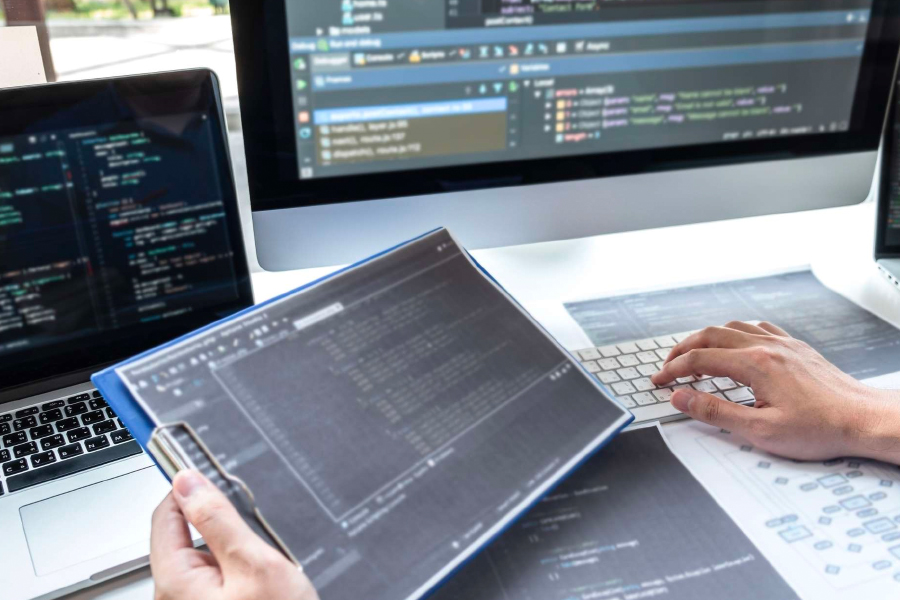 Employees Can Find Computer Monitoring Software?
This article examines stealth mode, how employees may determine whether the computers they use at work are being monitored, and the most effective way to apply software that monitors employees at their places of work.
The trend of keeping tabs on workers has increased in recent years. Digital tools enable tracking of employee participation and output. The amount of time spent tracking security personnel's output, presence, and conduct as well as the authenticity of their data has grown steadily.
We'll analyze if your staff can spot monitoring software and offer advice on how to make the most of any employee monitoring solutions you implement.
Employee Monitoring Software Benefits?
Business owners now monitor employees with software. Between meetings, automated monitoring systems track employee productivity, working time, and company events.
– Increasing productivity. Tracking specialist work lets employers evaluate performance. Managers can help team members improve if standards aren't met;
– Issues within. Management gains insight into staff struggles by monitoring individual and group output. Time and activity tracking can reveal slackers in the workplace;
– Workers who are based outside of the office. Remotely monitoring employees is now easier than ever thanks to technological advancements in remote monitoring. Specialists can work from home without their managers losing sight of their progress thanks to employee monitoring software.
– Safety of information. The ability to see how distant or hybrid employees handle sensitive company data is crucial for preventing insider threats.
Can Workers Recognize Work PC Monitoring?
There are times when a covert installation of employee monitoring software is necessary. First, they need to examine the currently running programs for any unknown or potentially harmful ones. System administrators are prohibited from disclosing the presence of any employee monitoring software. Your staff can use these digital tools to identify and remove monitoring software from their workstations.
1) Task Manager search
First, your curious employees may look for unusual background operations. Ctrl+Alt+Del opens Task Manager, where they can search the Processes or Services tabs for suspicious apps. They'll then Google any suspicious apps to learn more about them.
However, without admin rights on their work PCs, your specialists won't be able to access Task Manager and check for suspicious apps. Even if they do, this method is laborious.
2) Command line
Also, have your snooping specialists check their data usage to see if any suspicious apps are installed on their devices. A monitoring system would use an internet connection to relay information to administrators. By opening the command prompt as an administrator and typing the appropriate command into the opened window, workers can view a list of all the programs that have access to their computer's internet connection.
3) Using anti-spyware programs
Another tried and true strategy for detecting spyware is to install specialized anti-spyware or other antivirus software. Standard antivirus software can also detect monitoring software, although the agents of this type of software are often treated as exceptions by system administrators. Therefore, it's highly unlikely that your employees will be able to use corporate antivirus to detect monitoring software on their computers.
4) Outbound traffic
The most secure and reliable method, traffic monitoring, is not without its downsides. There is now an abundance of open-source software that allows users to monitor the outbound traffic from their machines. While some employee monitoring software updates the server around the clock, others prefer to wait until nightfall. Therefore, this strategy is somewhat arbitrary.
How to Properly Roll Out Employee Monitoring Software.
Next, you may be wondering, "How do I implement employee monitoring software properly?" The sheer volume of information may make implementing an employee monitoring solution seem impossible, but there are several best practices you can follow to make the transition easier.
Investigate laws. Employee monitoring laws vary by country, so check before monitoring. Monitoring a global remote team requires this. Keep your policies up-to-date.
Choose an employee-friendly tool. Transparent employee monitoring. Avoid secretly monitoring employees, which can damage trust and lead to legal action. Inform your staff of this software's benefits.
Openly observe. Finally, even if it's not required, notify employees of monitoring. Get written consent for monitoring. Tell employees what data you'll track and why. This will help your people accept your choice. It promotes workplace fairness.
The importance of transparency and communication when implementing employee monitoring software cannot be overstated. A user guide for Controlio, a leading employee monitoring solution, can provide valuable insights for both employers and employees, ensuring a smooth implementation process. By clearly outlining how the software works, its features, and its benefits, employees can better understand the purpose and advantages of using Controlio in their daily work routines.